Podcast: Play in new window | Download (Duration: 46:47 — 32.2MB) | Embed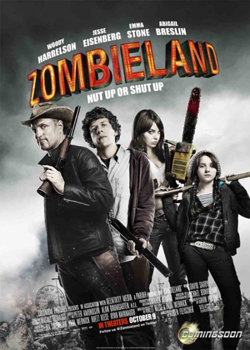 Today we discuss
Zombieland
. This episode contains SPOILERS and the undead!!!
Today's guests are newbie Jeff (@The_Borg) and Will (@LW_Will).
Playing out the show is 'Re: Your Brains' by Jonathan Coulton.
Stay tuned: The conversation continues in the forthcoming Sci-Fi After Party #36a…
Voicemail: 773-336-2686
Website: http://scifipartyline.com
Twitter: @scifipartyline
Facebook: Sci-Fi Party Line
Tumblr: scifipartyline.tumblr.com
Creator/Hostess = Cat
Email: fancyfembot ~at~ gmail ~dot~com
Skype username: fancyfembot
Twitter: @fancyfembot
Facebook: Fancy Fembot
Producer/Audio = Eric Escamilla
Email: bullitt33 ~at~ gmail ~dot~com
Skype username: bullitt33
Twitter: @Bullitt33
Facebook: Bullitt33
The Sci-Fi Party Line theme was created by Eric Escamilla.
Sci-Fi Party Line Podcast: http://scifipartyline.com
Sci-Fi Party Line News Network: http://scifipartyline.net