Podcast: Play in new window | Download (Duration: 1:34:33 — 65.0MB) | Embed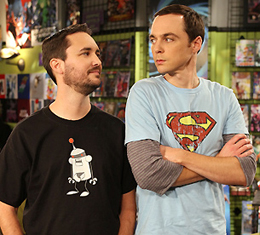 Today on
Sci-Fi Party Line
we discuss
Heroes, The Big Bang Theory
and
FlashForward
. Today's crew is Will (
@LW_Will
), Carl (
@robotcast
), Eric (
@Bullitt33
) and Cat (
@fancyfembot
).
This is a prime example of why we don't talk about Heroes very often. As you will see what results is 1 of most explosive SFPL episodes ever! On 2nd thought, perhaps we should talk about Heroes more???
Warning: This episode contains spoilers and hilarity!
Playing out the show is the song The Big Bang Theory Theme by Barenaked Ladies.
Sheldon and Leonard from The Big Bang Theory are named after the influential American film & television producer Sheldon Leonard.
Voicemail: 773-336-2686
Website: http://scifipartyline.com
Twitter: @scifipartyline
Facebook: Sci-Fi Party Line
Tumblr: scifipartyline.tumblr.com
Creator/Hostess = Cat
Email: fancyfembot ~at~ gmail ~dot~com
Skype username: fancyfembot
Twitter: @fancyfembot
Facebook: Fancy Fembot
Producer/Audio = Eric Escamilla
Email: bullitt33 ~at~ gmail ~dot~com
Skype username: bullitt33
Twitter: @Bullitt33
Facebook: Bullitt33
The Sci-Fi Party Line theme was created by Eric Escamilla.
Sci-Fi Party Line Podcast: http://scifipartyline.com
Sci-Fi Party Line News Network: http://scifipartyline.net