Podcast: Play in new window | Download (Duration: 1:19:32 — 54.7MB) | Embed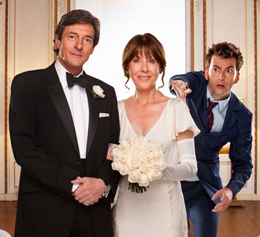 In this episode we talk about David Tennant's guest appearance in the
Sarah Jane Adventures
episode 'The Wedding of Sarah Jane Smith.' We rip into the released clip of the animated
Doctor Who
micro serial
Dreamland
. We collectively shake our heads at the
Doctor Who
special '
Planet of the Dead
,' but look forward to '
Waters of Mars
.' We express concerns and expectations of the 11th Doctor, Matt Smith. Our discussion concludes with talk of
Torchwood
's fate. We briefly touch on some of the classics as well.
We are honored to have Louis Trapani of Podshock, the longest running Doctor Who podcast, as our special guest on this episode.
Website: The Gallifreyan Embassy
Twitter: @LouisTrapani or @Podshock
This episode contains light spoilers throughout, speculation, random time loops and recursion paradoxes. Mind your cloister bell!
Playing out the show is the song 'K9's Lament' by the Trock band Chameleon Circuit.
Just for fun, see if you can spot the obscure Teddy Ruxpin reference.
Voicemail: 773-336-2686
Website: http://scifipartyline.com
Twitter: @scifipartyline
Facebook: Sci-Fi Party Line
Tumblr: scifipartyline.tumblr.com
Creator/Hostess = Cat
Email: fancyfembot ~at~ gmail ~dot~com
Skype username: fancyfembot
Twitter: @fancyfembot
Facebook: Fancy Fembot
Producer/Audio = Eric Escamilla
Email: bullitt33 ~at~ gmail ~dot~com
Skype username: bullitt33
Twitter: @Bullitt33
Facebook: Bullitt33
The Sci-Fi Party Line theme was created by Eric Escamilla.
Sci-Fi Party Line Podcast: http://scifipartyline.com
Sci-Fi Party Line News Network: http://scifipartyline.net