Podcast: Play in new window | Download (Duration: 57:04 — 39.2MB) | Embed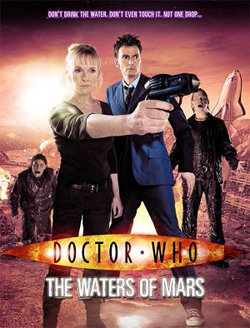 In this episode we talk about the latest
Doctor Who
special: '
Waters of Mars
.' Today's crew consists of newbie Amy (@
AmyHirschman
), Jeff (@
The_BORG
), Will (@
LW_Will
), Carl (@
robotcast
), Eric (@
Bullitt33
) and Cat (@
fancyfembot
). This episode contains spoilers and excess moisture.
Playing out the show is the song 'An Awful Lot of Running' by the Trock band Chameleon Circuit. The awesome music video for the song can be found here.
No Ood were harmed during the making of this podcast. Editing of this episode partially took place at an altitude of 40,000 ft – seriously!
Voicemail: 773-336-2686
Website: http://scifipartyline.com
Twitter: @scifipartyline
Facebook: Sci-Fi Party Line
Tumblr: scifipartyline.tumblr.com
Creator/Hostess = Cat
Email: fancyfembot ~at~ gmail ~dot~com
Skype username: fancyfembot
Twitter: @fancyfembot
Facebook: Fancy Fembot
Producer/Audio = Eric Escamilla
Email: bullitt33 ~at~ gmail ~dot~com
Skype username: bullitt33
Twitter: @Bullitt33
Facebook: Bullitt33
The Sci-Fi Party Line theme was created by Eric Escamilla.
Sci-Fi Party Line Podcast: http://scifipartyline.com
Sci-Fi Party Line News Network: http://scifipartyline.net