Podcast: Play in new window | Download (Duration: 13:42 — 9.5MB) | Embed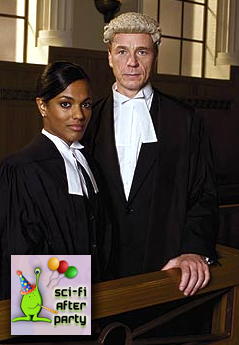 After listening to this rather brief After Party it seemed a slight theme emerged. 1st we touch briefly on
Caprica
. Then we get into
Law & Order UK
. So what's the theme? Caprica is a sci-fi drama which tells the story of a family whose patriarch is a lawyer. Law & Order UK is a judicial procedural staring
Jamie Bamber
of
BSG
and
Freema Agyemon
from
Doctor Who
.
Lawyers from space.
Today's crew is Will (@LW_Will), Eric (@Bullitt33) and Cat (@fancyfembot).
Playing out today's episode is We are all connected performed by John Boswell which can be found on his album in progress Symphony of Science (@musicalscience). We previously featured his 1st SoS song back in Sci-Fi Party Line #32. This really cool documentary mash-up features the vocal stylings of these illustrious science & astronomy luminaries: Bill Nye, Carl Sagan, Richard Feynman, and Neil deGrasse Tyson. Follow this link and you can download the song for free. There is a great complimentary YouTube video for the song which you can watch here. Listen as Mr. Sagan speaks about the laws of nature, you see…
Law & order in space!
This episode contains some discussion of explicit material and explicit language. Also a major spoiler concerning series 1 of Law & Order UK.
Voicemail: 773-336-2686
Website: http://scifipartyline.com
Twitter: @scifipartyline
Facebook: Sci-Fi Party Line
Tumblr: scifipartyline.tumblr.com
Creator/Hostess = Cat
Email: fancyfembot ~at~ gmail ~dot~com
Skype username: fancyfembot
Twitter: @fancyfembot
Facebook: Fancy Fembot
Producer/Audio = Eric Escamilla
Email: bullitt33 ~at~ gmail ~dot~com
Skype username: bullitt33
Twitter: @Bullitt33
Facebook: Bullitt33
The Sci-Fi Party Line theme was created by Eric Escamilla.
Sci-Fi Party Line Podcast: http://scifipartyline.com
Sci-Fi Party Line News Network: http://scifipartyline.net