Podcast: Play in new window | Download (Duration: 37:33 — 25.8MB) | Embed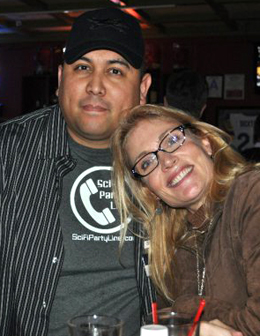 Eric went to the
Doctor Who Gallifrey Convention
on Feb. 26-28 and had a FANTASTIC time. We talk about some of his adventures and the general feeling amongst Who fans in attendance.
You also get to hear some of Eric's work from the Cyber Testicle Podcast as well as his latest project called Hitchhiker's Guide to the Whoverse.
http://guidetothewhoverse.libsyn.com/
Voicemail: 773-336-2686
Website: http://scifipartyline.com
Twitter: @scifipartyline
Facebook: Sci-Fi Party Line
Tumblr: scifipartyline.tumblr.com
Creator/Hostess = Cat
Email: fancyfembot ~at~ gmail ~dot~com
Skype username: fancyfembot
Twitter: @fancyfembot
Facebook: Fancy Fembot
Producer/Audio = Eric Escamilla
Email: bullitt33 ~at~ gmail ~dot~com
Skype username: bullitt33
Twitter: @Bullitt33
Facebook: Bullitt33
The Sci-Fi Party Line theme was created by Eric Escamilla.
Sci-Fi Party Line Podcast: http://scifipartyline.com
Sci-Fi Party Line News Network: http://scifipartyline.net