Podcast: Play in new window | Download (Duration: 1:04:16 — 44.2MB) | Embed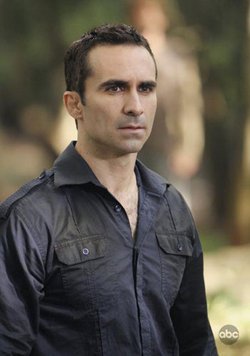 In today's
Party
Eric and Cat gush over arguably the greatest LOST episodes to date. I think we're allowed to have a little lovefest every once in a while, especially with such a juicy episode.
Ab Aeterno
gave us a little bit of everything: Answers, a love story, philosophy, immersive score, did we mention answers? All this plus an overall grand cinematic experience compacted into 1 hr of solid television.
This episode contains spoilers as we review & discuss: s06e08 Recon & primarily s06e09 Ab Aeterno .
Disclaimer: Before we get 100 comments telling us how wrong we were -> In all our excitement we made 2 rather large factual blunders. Ok, maybe just Eric did. Oh, and Cat now has a crush on Richard Alpert (Nestor Carbonell).
In his haste, Eric incorrectly states that Dogen speaks in his native Korean. WRONG, he's actually Japanese & his namesake is a famous medieval Japenese Buddhist monk.
Once again, Eric is in a hurry when he says George Kirk (in Star Trek 2009) feels the pain of loosing his wife. Obviously that was the other way around.
Playing out today's epsiode is Labor of Love from the Star Trek 2009 soundtrack by Oscar winning composer Michael Giacchino. This song is very reminicent of a major theme used throughtout LOST season 5, especially during Juliet's big farewell scene at the end of The incident.
And if you thought this is all we had to say about Ab Aeterno & the rest of LOST season 6 you would be wrong. This discussion actually continues in the forthcoming Sci-Fi After Party #56a LOST in Time. Look for it in coming days.
Voicemail: 773-336-2686
Website: http://scifipartyline.com
Twitter: @scifipartyline
Facebook: Sci-Fi Party Line
Tumblr: scifipartyline.tumblr.com
Creator/Hostess = Cat
Email: fancyfembot ~at~ gmail ~dot~com
Skype username: fancyfembot
Twitter: @fancyfembot
Facebook: Fancy Fembot
Producer/Audio = Eric Escamilla
Email: bullitt33 ~at~ gmail ~dot~com
Skype username: bullitt33
Twitter: @Bullitt33
Facebook: Bullitt33
The Sci-Fi Party Line theme was created by Eric Escamilla.
Sci-Fi Party Line Podcast: http://scifipartyline.com
Sci-Fi Party Line News Network: http://scifipartyline.net