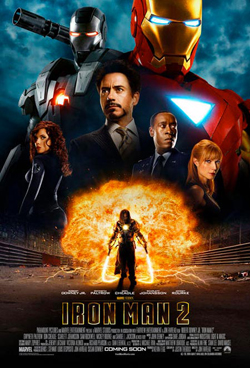 Podcast: Play in new window | Download (Duration: 41:14 — 28.4MB) | Embed
Iron Man 2 gets the Sci-Fi Party Line treatment from Phineas (@phineas_henshaw), Carl (@robotcast) and Cat (@fancyfembot). The main song in the show is called "Tony's Theme Song" from Iron Man Classics. Be sure to listen to the bloopers at the end of the show.
Voicemail: 773-336-2686
Website: http://scifipartyline.com
Twitter: @scifipartyline
Facebook: Sci-Fi Party Line
Tumblr: scifipartyline.tumblr.com
Creator/Hostess = Cat
Email: fancyfembot ~at~ gmail ~dot~com
Skype username: fancyfembot
Twitter: @fancyfembot
Facebook: Fancy Fembot
Producer/Audio = Eric Escamilla
Email: bullitt33 ~at~ gmail ~dot~com
Skype username: bullitt33
Twitter: @Bullitt33
Facebook: Bullitt33
The Sci-Fi Party Line theme was created by Eric Escamilla.
Sci-Fi Party Line Podcast: http://scifipartyline.com
Sci-Fi Party Line News Network: http://scifipartyline.net