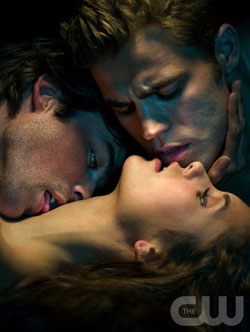 Podcast: Play in new window | Download (Duration: 1:12:24 — 49.8MB) | Embed
This is a jammed-pack show! We talk about the finales for Supernatural and Vampire Diaries. Then we talk about the mini-sodes for True Blood and the previews for season three. We both admitted to watching the Twilight: Eclipse episode of Oprah. Finally, we finish it off with information about Harry Potter and Infinitus 2010.
Today's fang-bangers are Hanako (@hmrpotter) and Cat (@fancyfembot). A show discussing Supernatural wouldn't be complete without Wayward Son by Kansas.
Confessions of a Grown-Up Fangirl
Voicemail: 773-336-2686
Website: http://scifipartyline.com
Twitter: @scifipartyline
Facebook: Sci-Fi Party Line
Tumblr: scifipartyline.tumblr.com
Creator/Hostess = Cat
Email: fancyfembot ~at~ gmail ~dot~com
Skype username: fancyfembot
Twitter: @fancyfembot
Facebook: Fancy Fembot
Producer/Audio = Eric Escamilla
Email: bullitt33 ~at~ gmail ~dot~com
Skype username: bullitt33
Twitter: @Bullitt33
Facebook: Bullitt33
The Sci-Fi Party Line theme was created by Eric Escamilla.
Sci-Fi Party Line Podcast: http://scifipartyline.com
Sci-Fi Party Line News Network: http://scifipartyline.net