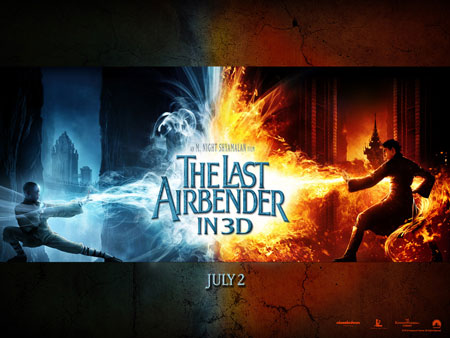 Podcast: Play in new window | Download (Duration: 45:58 — 31.6MB) | Embed
"The battles were so slow. By the time they were done with their dance to incarnate the force spell, you could have just walked away."
-Carl (@robotcast)
Carl(@robotcast) and Cat (@fancyfembot) bit the bullet and gave M. Night Shyamalan's The Last Airbender a chance.  Even though we did not watch the animated series, we tried very hard to give this movie a fair shot on it's own artistic value.
http://www.thelastairbendermovie.com/
Voicemail: 773-336-2686
Sci-Fi Party Line Podcast: http://scifipartyline.com
Sci-Fi Party Line News Network: http://scifipartyline.net
Twitter: @scifipartyline
Facebook: Sci-Fi Party Line
Tumblr: scifipartyline.tumblr.com
Creator/Hostess/Audio = Cat
Email: fancyfembot ~at~ gmail ~dot~com
Skype username: fancyfembot
Twitter: @fancyfembot
Facebook: Fancy Fembot
Theme/Twitter = Eric Escamilla
Email: bullitt33 ~at~ gmail ~dot~com
Skype username: bullitt33
Twitter: @Bullitt33
Facebook: Bullitt33
The Sci-Fi Party Line theme was created by Eric Escamilla.