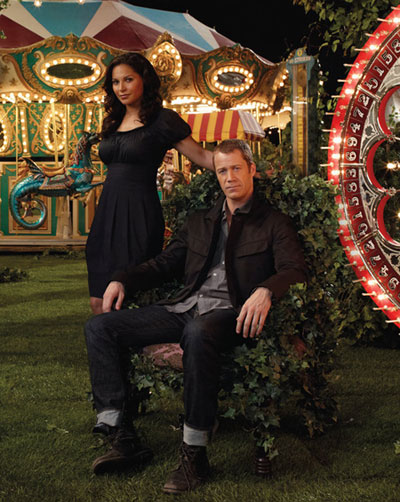 Podcast: Play in new window | Download (Duration: 48:32 — 33.7MB) | Embed
"We're not unrelentingly hard on stuff. We're not unfair. If you're gonna bring us some crazy characters, if it's gonna be funny and silly, if you hold our attention then every once in awhile we'll let you slide on a bad Escher stair."
-Carl (@robotcast)
In today's episode, we discuss the season premieres of Warehouse 13, Eureka and Haven. Carl has issues with MacPherson's name. Cat thinks Tess looks like a muppet and that Ed Quinn should get off his high-horse and return to Eureka. While trying to talk about Haven, the conversation devolves in to a rant about Erzi Dax on Star Trek: Deep Space Nine. Cat is a little excited about the upcoming Tiffany and Debbie Gibson Syfy Original Movie Mega Python Vs Gatoroid. We give you one guess on how Carl feels about it.
The crew is Carl (@robotcast) and Cat (@fancyfembot) and if you've seen the premieres of the shows, there are no spoilers beyond that. There is an outtake at the end.
The show ends with "Back in Time" by Huey Lewis and the News written for and featured in the 1985 film Back to the Future.
Voicemail: 773-336-2686
Sci-Fi Party Line Podcast: http://scifipartyline.com
Sci-Fi Party Line News Network: http://scifipartyline.net
Twitter: @scifipartyline
Facebook: Sci-Fi Party Line
Tumblr: scifipartyline.tumblr.com
Creator/Hostess/Audio = Cat
Email: fancyfembot ~at~ gmail ~dot~com
Skype username: fancyfembot
Twitter: @fancyfembot
Facebook: Fancy Fembot
Theme/Twitter = Eric Escamilla
Email: bullitt33 ~at~ gmail ~dot~com
Skype username: bullitt33
Twitter: @Bullitt33
Facebook: Bullitt33
The Sci-Fi Party Line theme was created by Eric Escamilla.