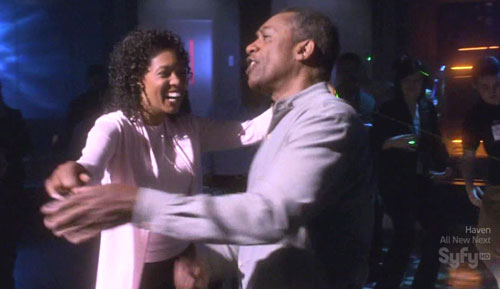 Podcast: Play in new window | Download (Duration: 45:49 — 31.5MB) | Embed
"Nathan Stark returning is almost as good as Christopher Eccleston returning as The Doctor for me."
-Cat (@fancyfembot)
Will (@LW_Will) returns and we are joined by a SFPL newbie Steve (@cyberauron). Today we discuss the latest developments on one of Cat's favorite shows, Eureka. There is nerd squeeing about everything from Henry's serenade to Grace and Nathan Stark's return to androids making love to self aware houses to Evil Wil Wheaton (@wilw). We also discuss the implications of the changed timeline reset and the Lupo/ Zane problem. Have your own nerdgasm about the Eureka at the end of the show.
Closing the show is Henry's version of 'She Blinded Me With Science'.
Voicemail: 773-336-2686
Sci-Fi Party Line Podcast: http://scifipartyline.com
Sci-Fi Party Line News Network: http://scifipartyline.net
Twitter: @scifipartyline
Facebook: Sci-Fi Party Line
Tumblr: scifipartyline.tumblr.com
Creator/Hostess/Audio = Cat
Email: fancyfembot ~at~ gmail ~dot~com
Skype username: fancyfembot
Twitter: @fancyfembot
Facebook: Fancy Fembot
Theme/Twitter = Eric Escamilla
Email: bullitt33 ~at~ gmail ~dot~com
Skype username: bullitt33
Twitter: @Bullitt33
Facebook: Bullitt33
The Sci-Fi Party Line theme was created by Eric Escamilla.