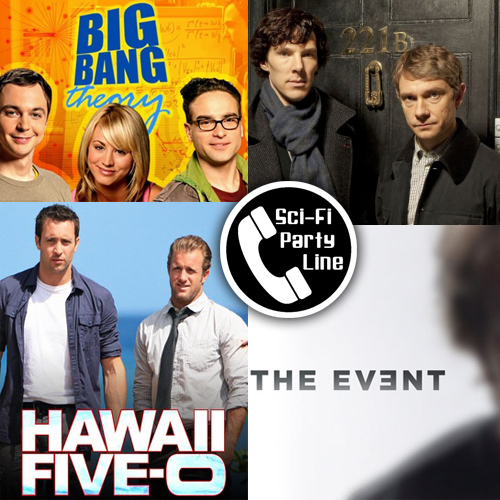 Podcast: Play in new window | Download (Duration: 1:07:34 — 46.6MB) | Embed
Re: The Event – "All I could see is at the end of this series, six years later that all of these people were going to be dead or in purgatory."
-Cat (@fancyfembot)
Today we have a behemoth show full of television and movie goodness. I have all newbies on the show today: Kyle of Geek Tragedy Podcast (@gtpodcast), Browncoat Lisa and Alex (@AAGUI2x2).
This show was really random and we talked about a little of everything: Browncoat Redemption, Sherlock, Hawaii Five-0, The Munsters re-make, Wonder Woman's pants, Big Bang Theory, Shat My Dad Says, Boardwalk Empire, The Event, The IT Crowd, Being Human, Merlin, Doctor Who, DragonCon, Back to the Future re-release, Star Wars Episode I in 3D, Monsters, The Walking Dead, the upcoming Rifftrax House on Haunted Hill event, Let Me In and The Social Network.
Voicemail: 773-336-2686
Sci-Fi Party Line Podcast: http://scifipartyline.com
Sci-Fi Party Line News Network: http://scifipartyline.net
Twitter: @scifipartyline
Facebook: Sci-Fi Party Line
Tumblr: scifipartyline.tumblr.com
Creator/Hostess/Audio = Cat
Email: fancyfembot ~at~ gmail ~dot~com
Skype username: fancyfembot
Twitter: @fancyfembot
Facebook: Fancy Fembot
Theme/Twitter = Eric Escamilla
Email: bullitt33 ~at~ gmail ~dot~com
Skype username: bullitt33
Twitter: @Bullitt33
Facebook: Bullitt33
The Sci-Fi Party Line theme was created by Eric Escamilla.