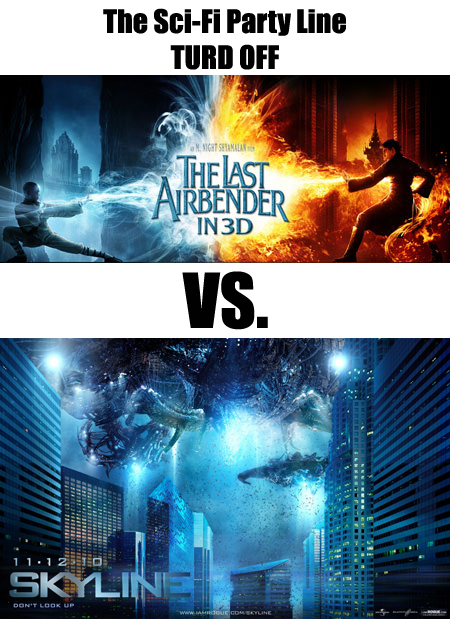 Podcast: Play in new window | Download (Duration: 53:41 — 37.1MB) | Embed
"The Skyline folks blew a patio deck and a one room apartment. M. Night blew the world."
-Carl (@robotcast)
Earlier this month, we asked you to vote in a poll about which movie was worse: Skyline or The Last Airbender. In this episode, Cat (@fancyfembot) and Carl (@robotcast) gave painstaking comparison and extensive analysis of the two worst movies of the year. In fact, we went so far as break down why each movie into these categories:
Squandered FX
Acting ?
Turdage per dollar
Fury upon exit
Which sequel would offend the least?
It's a display of nerdy OCD at it's best. We also discuss the cancellation of Stargate: Universe.
Voicemail: 773-336-2686
Sci-Fi Party Line Podcast: http://scifipartyline.com
Sci-Fi Party Line News Network: http://scifipartyline.net
Twitter: @scifipartyline
Facebook: Sci-Fi Party Line
Tumblr: scifipartyline.tumblr.com
Creator/Hostess/Audio = Cat
Email: fancyfembot ~at~ gmail ~dot~com
Skype username: fancyfembot
Twitter: @fancyfembot
Facebook: Fancy Fembot
Theme/Twitter = Eric Escamilla
Email: bullitt33 ~at~ gmail ~dot~com
Skype username: bullitt33
Twitter: @Bullitt33
Facebook: Bullitt33
The Sci-Fi Party Line theme was created by Eric Escamilla.