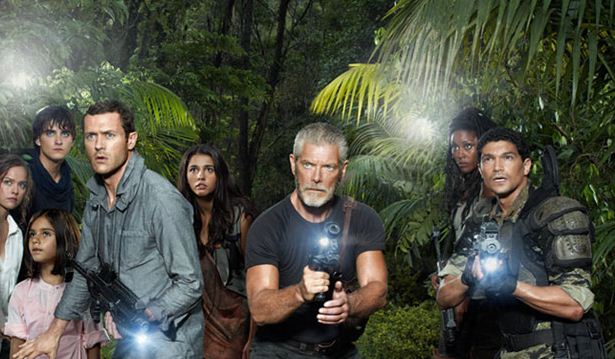 Podcast: Play in new window | Download (Duration: 1:18:46 — 54.3MB) | Embed
"You know what had more of an audience? ALF."
-Stephanie (@stephbystereo) on Terra Nova
"I don't have to look at Bert's eyebrows anymore. That child that has Lorne Green eyebrows incarnate."
-Stephanie (@stephbystereo) on Terra Nova
"Kids, don't throw rocks at zombies."
-Carl (@robominister) on The Walking Dead
"This pseudo sci-fi insanity has gotta end!"
-Carl (@robominister) on Terra Nova
[[[[[[[[[[[[[[[[[[[[[[[[[[[[[[ SPOILER ALERT ]]]]]]]]]]]]]]]]]]]]]]]]]]]]]]]]]]
IT'S A SCI-FI EMERGENCY!
Terra Nova has been canceled and we need to vent and mourn it's passing. Yes, we pick at the bones on the corpse but that's only because there is genuine love there. Beware, there is some MAJOR soap-boxing going on.
Barn Yard Zombie Attorney! We also feel compelled to discuss the latest developments in The Walking Dead. Zombie cow! OMG!!! Be sure to listen until the end.

Space Chronicles: Facing the Ultimate Frontier by Neil deGrasse Tyson
Comic Book Road Show and No Apologies Podcast
Will you miss "Terra Nova"?
Yes (42%, 10 Votes)
No (33%, 8 Votes)
Never watched it (25%, 6 Votes)
Total Voters: 24
Loading ...
<——————————————————————————————————————————->
Voice mail: 773-336-2686
Sci-Fi Party Line Podcast: http://scifipartyline.com
Sci-Fi Party Line News Network: http://scifipartyline.net
Twitter: @scifipartyline
Facebook: Sci-Fi Party Line
Tumblr: scifipartyline.tumblr.com
The Sci-Fi Party Line theme was created by Eric Escamilla.
<——————————————————————————————————————————->