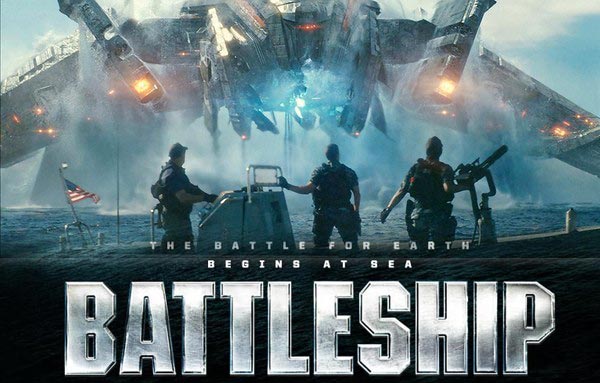 Podcast: Play in new window | Download (Duration: 1:29:35 — 61.8MB) | Embed
"Much like the alien craft skirting along the surface the water… it was almost not a good film but it managed to somehow stay above the surface and deliver an enjoyable experience."
-Carl (@robominister)
"Battleship… gave me exactly what I was looking for."
-Cat (@fancyfembot)

"Peter Berg made this movie watchable. In somebody else's hands it would have been a lesser product and probably a near disaster."
-Eric (@Bullitt33)

[[[[[[[[[[[[[[[[[[[[[[[[[[[[[[ SPOILER ALERT ]]]]]]]]]]]]]]]]]]]]]]]]]]]]]]]]]]
In this episode we discuss Battleship. Today's crew is Eric (@bullitt33),  Carl (@robominster) and Cat (@fancyfembot). There are mentions of Skyline, GI Joe, JEM, My Little Pony, Space Stallions, He-Man. Carl gives us a mini-review of Syfy's American Warships (1:04:13).
This week's shawarma is Earth: Final Conflict, 80's Mall Kickstarter Project, and bloopers. It's starts out slow but gets ridiculous.
Music from the Official Battleship Motion Picture Soundtrack.
<——————————————————————————————————————————->
Voice mail: 773-336-2686
Sci-Fi Party Line Podcast: http://scifipartyline.com
Sci-Fi Party Line News Network: http://scifipartyline.net
Twitter: @scifipartyline
Facebook: Sci-Fi Party Line
Tumblr: scifipartyline.tumblr.com
Google+: SFPL on G+
The Sci-Fi Party Line theme was created by Eric Escamilla.
<——————————————————————————————————————————->