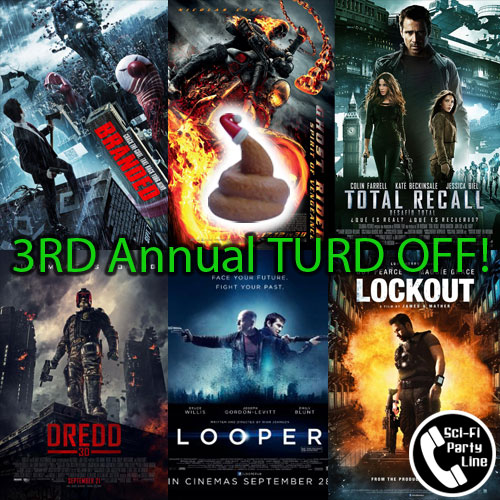 Podcast: Play in new window | Download (Duration: 1:33:10 — 64.1MB) | Embed
"The ultimate turd has gotta inspire something in you. You gotta FEEL a turd. I'm sorry, Ghost Rider was not good but I was not 'moved'."
-Carl (@robominister) 
"Bill and Ted is the best example of time looping use in a sci-fi movie period… better than Back to the Future… and I will challenge anyone to say otherwise."
-Carl (@robominister)
"Watch Birdemic before you watch this."
-Cat (@fancyfembot)
[[[[[[[[[[[[[ SPOILER ALERT ]]]]]]]]]]]]]
Welcome to the final show of 1012 and our 3RD Annual TURD OFF! Cat and Carl are keeping with their yearly tradition of finding the worst films of the year.
This year's candidates aren't so clear and they chose from Ghost Rider: Spirit of Vengence, Underworld Awakening, Lockout, Total Recall, Looper, Branded, and Dredd 3D. You'll be surprised (baffled questionmark?) at the winner!
<——————————————————————————————————————————->
Voice mail: 773-336-2686
Sci-Fi Party Line Podcast: http://scifipartyline.com
Sci-Fi Party Line News Network: http://scifipartyline.net
Twitter: @scifipartyline
Facebook: Sci-Fi Party Line
Tumblr: scifipartyline.tumblr.com
Google+: SFPL on G+
Stitcher: SFPL on Stitcher
The Sci-Fi Party Line theme was created by Eric Escamilla.
<——————————————————————————————————————————->