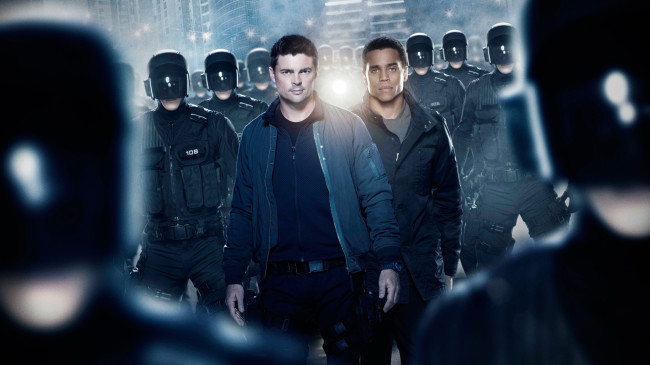 Podcast: Play in new window | Download (Duration: 1:45:16 — 144.7MB) | Embed
"I would love to know what was over the other side of the wall."
– Darrell (@thevoice123)
"After Firefly, why in the world would they do this again?"
– Carl (@robominister)
"The real question is after Firefly why were lured into watching?"
– Cat (@fancyfembot)
"Let me tell you- cave bear, exoskeleton, murder suit- that was awesome!"
– Stephanie (@stephbystereo)
The RoboMinister delivers a powerful eulogy for the Sci-Fi Party Line's most beloved show, Almost Human.
Today's mourners are Darrell, Stephanie, Carl, and Cat. We discuss, in excruciating detail, why we are sad about the cancellation of Almost Human. Later in the episode we got into a debate about… something…
We have shawarma!
Fox Sci-Fi Shows Canceled Before Their Time
'Almost Human' Season 2 Premiere: Karl Urban Threatening To Quit Television If Fox Series Isn't Renewed? [VIDEO]
Maytag Ads Ditch That Old, Bored Repairman for a Younger Model (Colin Ferguson)
Carl's Almost Human Eulogy
'Chirren of the Church of Sci-Fi..
We've gathered together again today.
To say goodbye to another- who was- gone too soon!
It seemed as quickly as Almost Human had appeared- and become a part of our life's- it was cruelly
Snatched- snatched from our collective hands..
The loss of a show is ALWAYS hard- but especially one so young YOUNG- so- full of potential..
They'd hardly taken the wrapped off of poor Dorian-
Rudy- had only left the lab once..
Our man Kennex- was it too much to ask for a little..
Doe-eyed Clone strange??..
He was a hard working man
We KNEW he was at full capacity..
Instead they chose to leave the fans again behind an impenetrable wall.
The fate of our friends lost forever- to the ether-net..
The ken-doll executives glare at us with their lifeless eyes.
Some of you may say Robominister- you're not being fair and balanced,
I say don't put your FAITH in the Deceiver!!
We've been down this path too many times before..
There was a time, as fans,
we- knew our Tru Calling..
we could count on Briscoe
we- walked the line- with Vansen and the Wildcards
But always under the fear of the Touch– of the MAN.T.I.S!
Curse their- sudden but inevitable betrayal..
WHY OH- Why did good Book have to die?
It was a sin to take away our WASH!
(Zoe I'm here for you- just look me up on the Cortex..)
Why are we doomed to this continual solitude?
Lone Gunmen in this Harsh Realm where
only the chronicles of Sarah Connor could be the Rock! – of our Alien Nation..
As Fans our days of trusting this network has COME TO A MIDDLE!!
We can only hold close to our hearts the likes of Tyson, and Ichabod, and Abbie
In the hopes that they'll survive..
They're a different denomination- but of a shared faith..
For those that continue to betray us, there's
a very special level of hell- where they will find no Serenity..
Yes.. For us there will always be a better place-
our eyes set to the future
This is a fertile land and we will thrive..
For the rest of us there always a better place
There are others.
I believe there's a place where they know a good show takes TIME to mature-
I believe there's a place where a show is not judged by it's share of the bear-
but by the content of it's characters.
Yea, though I walk through the valley of the shadow of death…
May the church say A-BRams!!
Abrams…
<—————————————————————————————————>
Sci-Fi Party Line's Dragon*Con Portal —  http://dragoncon.scifipartyline.com/
The Taylor Podcast Network
<—————————————————————————————————>
Voice mail: 773-336-2686
Sci-Fi Party Line Podcast: http://scifipartyline.com
Twitter: @scifipartyline
Facebook: Sci-Fi Party Line
Tumblr: scifipartyline.tumblr.com
Google+: SFPL on G+
Stitcher: SFPL on Stitcher
The Sci-Fi Party Line theme was created by Eric Escamilla of the Doctor Who: Mostly Harmless Cutaway.
The Sci-Fi Party Line end theme "Son of a Rocket" was created by Kevin MacLeod and licensed under Creative Commons: By Attribution 3.0.
<————————————————————————————————–>