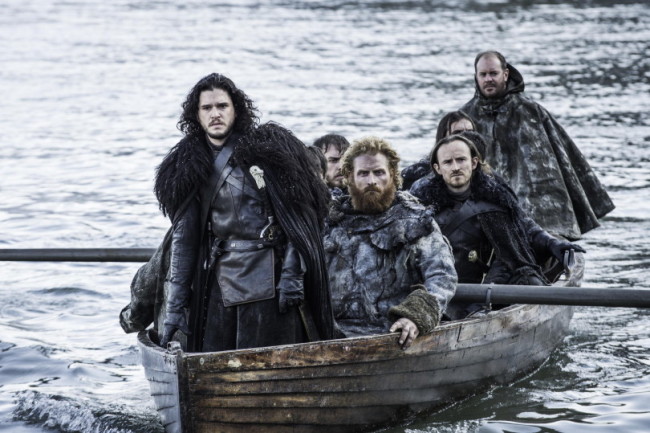 Podcast: Play in new window | Download (Duration: 2:07:01 — 117.5MB) | Embed
"I have a vagina and if I see a woman being raped, I'm gonna have a response."
– Cat (@fancyfembot)
"They have done one too many rape scenes and it's getting out of hand but I'm trying to keep an open mind that the story has to go somewhere."
– Hanako (@hmrpotter)
"The only thing I have vitriol for this year … is hate-watching Flash and Arrow."
– Eric (@BullittWHO)
"When King Snake's … head got crushed like a grape, I think I blinked more than usual."
– Eric (@BullittWHO)
"Meanwhile, frickin' zombies."
– Carl (@robominister)
"They could have spent a couple of more bucks on some of those effects. I was waiting for Jon Snow to turn around and say 'Get some'."
– Carl (@robominister)
And now HBO presents World War Z on ice.
Today's crew is Hanako, Carl, Eric, and Cat. In today's episode we talk about rape, murder, battles, and controversy of Game of Thrones – A Song of Fire and Ice. It's an intense conversation from beginning to end and there is a language alert because has all the feels. At the 56:16 mark through the 1:02:04 mark we talk book spoilers that may have major implications for characters on the show – but it is all speculation.
Shawarma begins at 1:56:25 which includes Carl moaning about the lack of podcasts being released yet doesn't lift a finger to help, iZombie complaints, and Eric and Hanako wax about Twilight, yes, you read that right, Twilight.

Game of Thrones airs on Sundays 10/9 on HBO.
http://www.hbo.com/game-of-thrones
<—————————————————————————————————>
Sci-Fi Party Line's Dragon*Con Portal —  http://dragoncon.scifipartyline.com/
<—————————————————————————————————>
Voice mail: 773-336-2686
Sci-Fi Party Line Podcast: http://scifipartyline.com
Twitter: @scifipartyline
Facebook: Sci-Fi Party Line
Tumblr: scifipartyline.tumblr.com
Google+: SFPL on G+
Stitcher: SFPL on Stitcher
The Sci-Fi Party Line theme was created by Eric Escamilla of the Doctor Who: Mostly Harmless Cutaway.
The Sci-Fi Party Line end theme "Son of a Rocket" was created by Kevin MacLeod and licensed under Creative Commons: By Attribution 3.0.
<————————————————————————————————–>