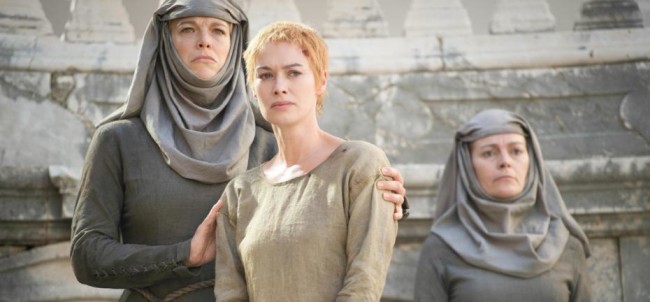 Podcast: Play in new window | Download (Duration: 2:56:37 — 162.9MB) | Embed
"If I sound excited that's because Cat's back on board with 'Game of Thrones' being the best show ever!"
– Cat (@fancyfembot)
"Oh yeah, he has tons of bastards…"
– Eric (@BullittWHO)
"Reek decided to grow some balls…"
– Hanako (@hmrpotter)
"The apocalypse is working out for some of us."
– Carl (@robominister)
"I don't think it was like a test that was forseen by the gods or presented like 'here comes the Kobayashi Maru'."
– Eric (@BullittWHO)
"There was room on the dragon for a couple of more people."
– Carl (@robominister)
Strap in folks! This episode is a WHOPPING THREE HOURS and perhaps our longest show yet!
Today's crew is Hanako, Carl, Eric, and Cat. In today's episode we talk about the child-burning, dragon-flying, castle-jumping, tree-hanging, battle-losing, oath-keeping, poison-kissing, shame-walking, bastard-stabbing, epic-awesomeness that is Game of Thrones. Cat gets a chance to gloat. Hanako gets a chance to eat crow. Eric reveals that he's been in a situation similar to Cersei. Carl is certain that Tussin will easily heal the majority of the non-deaths we saw on the finale and that Jon Snow "can walk it off". We tease @newmutant and praised @ronycamille for giving us the epic Shame! soundbites that we turned into ringtones. We also gave shout outs to Adam F, Alex A, Dominic W, Robert Y, David M, Christina K, Nikki P, Charles, RoddyKat, and Mark C to thank them for always giving feedback on our show.
Game of Thrones airs on Sundays 10/9 on HBO.
http://www.hbo.com/game-of-thrones
<—————————————————————————————————>
We have a new Facebook discussion group! 

https://www.facebook.com/groups/scifipartyline.discuss/
<—————————————————————————————————>
Voice mail: 773-336-2686
Sci-Fi Party Line Podcast: http://scifipartyline.com
Twitter: @scifipartyline
Facebook: Sci-Fi Party Line
Tumblr: scifipartyline.tumblr.com
Google+: SFPL on G+
Stitcher: SFPL on Stitcher
Sci-Fi Party Line's Dragon*Con Portal: http://dragoncon.scifipartyline.com/
The Sci-Fi Party Line theme was created by Eric Escamilla of the Doctor Who: Mostly Harmless Cutaway.
The Sci-Fi Party Line end theme "Son of a Rocket" was created by Kevin MacLeod and licensed under Creative Commons: By Attribution 3.0.
<————————————————————————————————–>