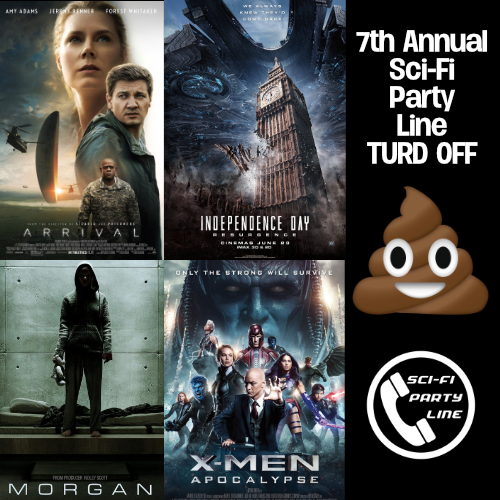 Podcast: Play in new window | Download (Duration: 2:06:00 — 115.7MB) | Embed
It's the most wonderful time of the year!
It's part 3 of the SEVENTH ANNUAL SCI-FI PARTY LINE TURD OFF!
Your patience has paid off! Cat (@fancyfembot) and Carl (@robominister) wrap up the longest TURD OFF ever. Before we do, we review Star Trek Beyond. After that, we decide which was the turdiest sci-fi film of 2016: Arrival, Morgan, Independence Day: Resurgence, or X-Men: Apocalypse.
<———————————————->
We have a new Facebook discussion group!
https://www.facebook.com/groups/scifipartyline.discuss/
<———————————————->
Voicemail: 773-336-2686
Sci-Fi Party Line Podcast: http://scifipartyline.com
Twitter: @scifipartyline
Facebook: Sci-Fi Party Line
Tumblr: scifipartyline.tumblr.com
Google+: SFPL on G+
Stitcher: SFPL on Stitcher
Sci-Fi Party Line's Dragon*Con Portal: http://dragoncon.scifipartyline.com/
<———————————————->