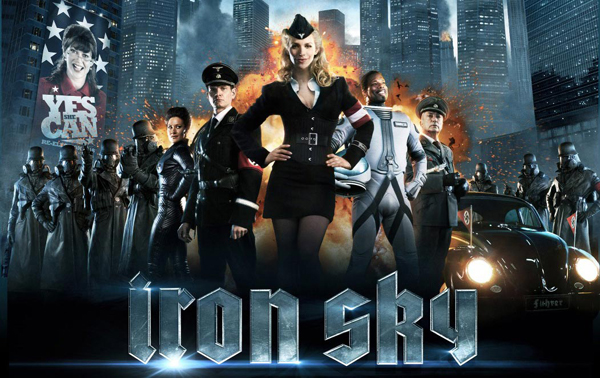 Podcast: Play in new window | Download (Duration: 1:30:04 — 61.9MB) | Embed
"Iron Sky felt like they were trying really hard to be cool but missing the mark for about 30 years."
-Stephanie (@stephbystereo)
"Hey you jive turkeys!"
-Carl (@robominister)
"You said you like independent films? BOOM. Birdemic."
-Cat (@fancyfembot)
[[[[[[[[[[[[[[[[[[[[[[[[[[[[[[ SPOILER ALERT ]]]]]]]]]]]]]]]]]]]]]]]]]]]]]]]]]]
Today's crew is Carl, Stephanie, and Cat. Today we talk about Iron Sky and Mercury Men. Carl orders us to watch Iron Sky. Cat has a rough start but eventually explains why she likes and Stephanie is not so impressed. Cat tries again to get Carl to watch Birdemic in preparation for Birdemic 2: The Resurrection. We talk about Stephanie's demand for us to Monster A Go-Go (@40:10). We now understand why it is listed as one of the worst films of all times. Carl also introduced us to Mercury Men (@52:00). At some point Stephanie and Cat break out in a giggle fit. We regain our composure and talk about our Andromeda Strain Tweet Off, My Roommate the Cylon, Pioneer One, The Booth at the End, and Space Command. Stephanie coined Carl's very own hashtag, #CarlWorthy.
We end with shoe pants.
Ruth looks like how William Shatner looks now. #AndromedaSrain #sfpl @stephbystereo
HOLY CRAP THE SEAL HAS BROKEN IN AUTOPSY AND RUTH IS BEING ALL WEIRD!!! @fancyfembot #AndromedaStrain #sfpl
@stephbystereo @fancyfembot This is a HELL of a way to have a tweet off! #AndromedaStrain #sfpl
Small Wonder #CarlWorthy @robominister @stephbystereo
Enterprise #CarlWorthy @fancyfembot @robominister
@markcockram @stephbystereo it's a little known fact that @fancyfembot 's Mom suspects she's a Moon Nazi. #ironsky
<——————————————————————————————————————————->
Voice mail: 773-336-2686
Sci-Fi Party Line Podcast: http://scifipartyline.com
Sci-Fi Party Line News Network: http://scifipartyline.net
Twitter: @scifipartyline
Facebook: Sci-Fi Party Line
Tumblr: scifipartyline.tumblr.com
Google+: SFPL on G+
The Sci-Fi Party Line theme was created by Eric Escamilla.
<——————————————————————————————————————————->