Podcast: Play in new window | Download (Duration: 1:19 — 987.7KB) | Embed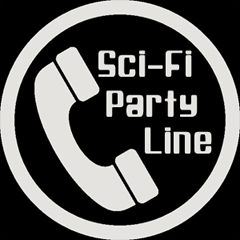 Here is a 1 minute version of
Sci-Fi Party Line
#41
The Waters of Mars
.
Recently, friend of the show: The Cyber Testicle Podcast put a call out for anyone to submit their own 1 minute reviews of Doctor Who: WoM and because it was too difficult for us to come up with something completely original this was the result.
As we don't have a proper promo for our show yet, this is the next best thing to get the gist of what we do here on our program. Please use it as you see fit.
Cyber Testicle's own (hilarious) 1 minute WoM review can be found here. Be warned: it contains explicit language.
This preview features contributions from: Amy (@AmyHirschman), Jeff (@The_BORG), Will (@LW_Will), Carl (@robotcast), Eric (@Bullitt33) and Cat (@fancyfembot).
Voicemail: 773-336-2686
Website: http://scifipartyline.com
Twitter: @scifipartyline
Facebook: Sci-Fi Party Line
Tumblr: scifipartyline.tumblr.com
Creator/Hostess = Cat
Email: fancyfembot ~at~ gmail ~dot~com
Skype username: fancyfembot
Twitter: @fancyfembot
Facebook: Fancy Fembot
Producer/Audio = Eric Escamilla
Email: bullitt33 ~at~ gmail ~dot~com
Skype username: bullitt33
Twitter: @Bullitt33
Facebook: Bullitt33
The Sci-Fi Party Line theme was created by Eric Escamilla.
Sci-Fi Party Line Podcast: http://scifipartyline.com
Sci-Fi Party Line News Network: http://scifipartyline.net