Podcast: Play in new window | Download (Duration: 55:46 — 38.4MB) | Embed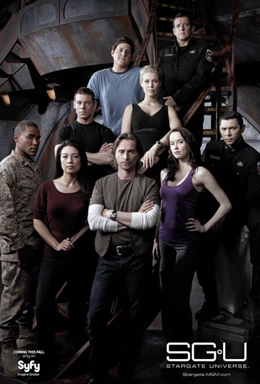 This episode of
Sci-Fi After Party
is a continuation of episode #34 where we discuss
SyFy
's new original series
Stargate Universe
and
SyFy
channel original movies.
The show's guest is Carl (@robotcast) of robotcast.com. This episode contains spoilers.
We feature voicemail from Doug (@geekacres) as well as a promo for his podcast: Geek Acres.
Closing out the show today is a song called 'The Golden Age of Video' by Ricardo Autobaun. The music video that accompanies this song is pretty cool and can be found here.
Voicemail: 773-336-2686
Website: http://scifipartyline.com
Twitter: @scifipartyline
Facebook: Sci-Fi Party Line
Tumblr: scifipartyline.tumblr.com
Creator/Hostess = Cat
Email: fancyfembot ~at~ gmail ~dot~com
Skype username: fancyfembot
Twitter: @fancyfembot
Facebook: Fancy Fembot
Producer/Audio = Eric Escamilla
Email: bullitt33 ~at~ gmail ~dot~com
Skype username: bullitt33
Twitter: @Bullitt33
Facebook: Bullitt33
The Sci-Fi Party Line theme was created by Eric Escamilla.
Sci-Fi Party Line Podcast: http://scifipartyline.com
Sci-Fi Party Line News Network: http://scifipartyline.net