Podcast: Play in new window | Download (Duration: 32:55 — 22.7MB) | Embed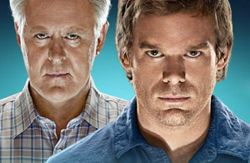 Ready, set, coagulate!!! We take on everyone's favorite bloody slashing do-gooder
Dexter
and discuss recent developments. Today's victim… erm, guest is @
thetelevixen
. This episode contains type A positive spoilers!
Visit Melissa @ http://thetelevixen.com/
Playing out today's episode is "Murder by Numbers" performed by The Police which can be found on 1983's Synchronicity.
Voicemail: 773-336-2686
Website: http://scifipartyline.com
Twitter: @scifipartyline
Facebook: Sci-Fi Party Line
Tumblr: scifipartyline.tumblr.com
Creator/Hostess = Cat
Email: fancyfembot ~at~ gmail ~dot~com
Skype username: fancyfembot
Twitter: @fancyfembot
Facebook: Fancy Fembot
Producer/Audio = Eric Escamilla
Email: bullitt33 ~at~ gmail ~dot~com
Skype username: bullitt33
Twitter: @Bullitt33
Facebook: Bullitt33
The Sci-Fi Party Line theme was created by Eric Escamilla.
Sci-Fi Party Line Podcast: http://scifipartyline.com
Sci-Fi Party Line News Network: http://scifipartyline.net