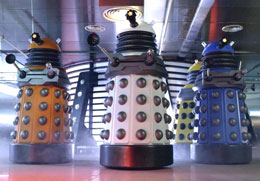 Podcast: Play in new window | Download (Duration: 1:22:13 — 56.5MB) | Embed
Man in Black exterminate, regenerate as Locke to cause the crack in time leading to Amy Pond's flash-sideways… Come again? In layman speak: We talk some LOST & Doctor Who, just like we never do.
Today's crew consists of Terry (@tmofee), Eric (@Bullitt33), and Cat (@fancyfembot). This episode contains pure smoke monster Dalek DNA spoilers. We're assuming you're caught up to LOST s06e12 Everybody Loves Hugo & Doctor Who s05e03 Victory of the Daleks.
Playing out the show is the song 'Exterminate, Regenerate' by the Trock band Chameleon Circuit.
The Gallifrey One (2010) Convention – Katy Manning (Jo Grant) Dalek impersonation video can be found here.
If you'd like to hear more WHO talk, Eric & Megan's Hitchhiker's Guide to the Whoverse review of 'Victory of the Daleks' can be found here: MHC #6 Victory of the Daleks
<——————————————————————————————————————————->
Voice mail: 773-336-2686
Sci-Fi Party Line Podcast: http://scifipartyline.com
Sci-Fi Party Line News Network: http://scifipartyline.net
Twitter: @scifipartyline
Facebook: Sci-Fi Party Line
Tumblr: scifipartyline.tumblr.com
Google+: SFPL on G+
The Sci-Fi Party Line theme was created by Eric Escamilla.
[Subscribe via iTunes]
<——————————————————————————————————————————->