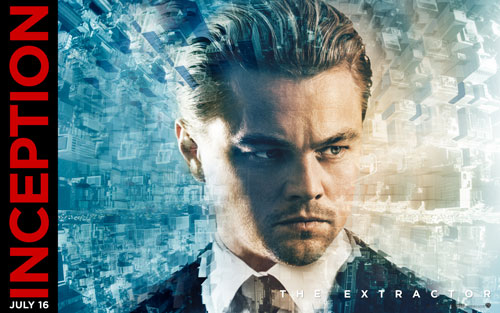 Podcast: Play in new window | Download (Duration: 2:25:22 — 99.9MB) | Embed
"What Avatar did for your eyes, Inception does for your brain."
-Eric (@bullitt33)
Note: If you are hearing the Twilight episode, I made a goof earlier with the podcast URL. Delete the episode and re-download it to hear the Inception episode.
You'd probably navigate most any maze faster than you can navigate this podcast. Feel free to dive into our rabbit hole as we take Inception apart, re-assemble, take apart again, roll in cookie dough, bake, make a xerox, and finally return back to the beginning again. Sound like fun?
That's right! We're discussing Inception. It is a two-hour long analytical look at the film. We go on tangents, we passionately disagree on a few things which makes this episode a lot of fun. Today's crew is Eric (@bullitt33), Carl (@robotcast) and Cat (@fancyfembot).
Closing out the show is 'Non, je ne regrette rien' by Edith Plaf from the La Vie En Rose soundtrack. This song features in Inception in more ways than one.
[Update] Eric re-watched the Inception a third time and the final scene was crystal clear. He says that the "vaseline cam" that he saw at the end of the film was actually a malfunction of the projectors at the first theater he visited.
Voicemail: 773-336-2686
Sci-Fi Party Line Podcast: http://scifipartyline.com
Sci-Fi Party Line News Network: http://scifipartyline.net
Twitter: @scifipartyline
Facebook: Sci-Fi Party Line
Tumblr: scifipartyline.tumblr.com
Creator/Hostess = Cat
Email: fancyfembot ~at~ gmail ~dot~com
Skype username: fancyfembot
Twitter: @fancyfembot
Facebook: Fancy Fembot
Producer/Audio = Eric Escamilla
Email: bullitt33 ~at~ gmail ~dot~com
Skype username: bullitt33
Twitter: @Bullitt33
Facebook: Bullitt33
The Sci-Fi Party Line theme was created by Eric Escamilla.