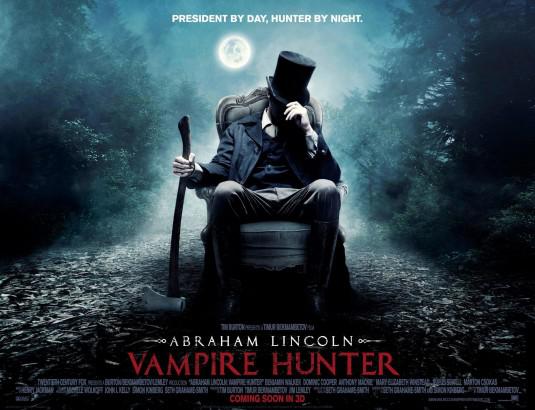 Podcast: Play in new window | Download (Duration: 2:02:17 — 84.1MB) | Embed
"Ladies and gentleman I managed to hold it in but I will like to point it out to all of our listeners how Cat has managed to work in 'Thor' AND Liam Neeson in a minute and 25 seconds."
-Carl (@robominister)
"Seriously, I'd want to slap somebody with a horse."
-Cat (@fancyfembot)
"It seemed like the entire film was a different mod for 'The Matrix'. Henry was Morpheus…"
-Eric (@Bullitt33)
"The new Dredd looks like 'New Jack City' in dystopian future. Instead of Ice-T, we got Karl Urban."
-Eric (@Bullitt33)
[[[[[[[[[[[[[[[[[[[[[[[[[[[[[[ SPOILER ALERT ]]]]]]]]]]]]]]]]]]]]]]]]]]]]]]]]]]
Today's crew is Carl, Eric, and Cat. Today we discuss Abraham Lincoln: Vampire Hunter and Falling Skies (@51:10). We also have shawarma this week! (@1:35:15) There is a mention of Lockout, talk of the new Dredd, a heated discussion about Judge Dredd, Red, Total Recall (both), Demolition Man, Spiderman, and Robocop. I give a shout out to Detroit Thor.
Abraham Lincoln's Profile @ whitehouse.gov
Abraham Lincoln Vampire Hunter on Facebook
Pride and Prejudice and Zombies
The official Falling Skies website
<——————————————————————————————————————————->
Voice mail: 773-336-2686
Sci-Fi Party Line Podcast: http://scifipartyline.com
Sci-Fi Party Line News Network: http://scifipartyline.net
Twitter: @scifipartyline
Facebook: Sci-Fi Party Line
Tumblr: scifipartyline.tumblr.com
Google+: SFPL on G+
The Sci-Fi Party Line theme was created by Eric Escamilla.
<——————————————————————————————————————————->