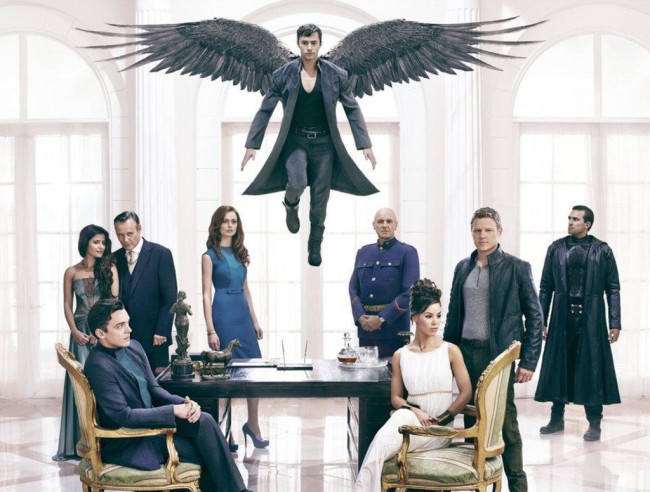 Podcast: Play in new window | Download (Duration: 1:05:42 — 45.3MB) | Embed
"No, this is literally based on … Legion."
– Cat (@fancyfembot)
"On IMDB, Legion had a 5.1 so you know you're starting from some good, solid source material… that you can only go up from… with Legion as your core."
– Carl (@robominister)
"He (Datak Tarr) was the recipient of the most awkward hand job that I have ever seen!"
– Cat (@fancyfembot)
"That didn't look like a good time for anyone."
– Carl (@robominister)
WHAT?!?
We are discussing a show as it currently airing?
What type of madness IS this?
This week's crew is Cat and Carl and they discuss the first 3 episodes of Dominion and the first 3 episodes of the second season of Defiance (31:07). This episode is home to a great Cantankerous Carl Rant™ about how they drive on Defiance.
Dominion on Syfy
Defiance on Syfy
Legion on IMDB
Official Legion trailer on YouTube
The Flood – Sneak Peek
Everyone's in jeopardy. Will Alex be able to protect his secret in prison? Find out Thursday at 9/8c on Syfy.

Episode 3 – Inside Dominion
Get a behind the scenes look at Dominion episode three straight from the producers.

<—————————————————————————————————>
Sci-Fi Party Line's Dragon*Con Portal —  http://dragoncon.scifipartyline.com/
<—————————————————————————————————>
Voice mail: 773-336-2686
Sci-Fi Party Line Podcast: http://scifipartyline.com
Twitter: @scifipartyline
Facebook: Sci-Fi Party Line
Tumblr: scifipartyline.tumblr.com
Google+: SFPL on G+
Stitcher: SFPL on Stitcher
The Sci-Fi Party Line theme was created by Eric Escamilla of the Doctor Who: Mostly Harmless Cutaway.
The Sci-Fi Party Line end theme "Son of a Rocket" was created by Kevin MacLeod and licensed under Creative Commons: By Attribution 3.0.
<————————————————————————————————–>