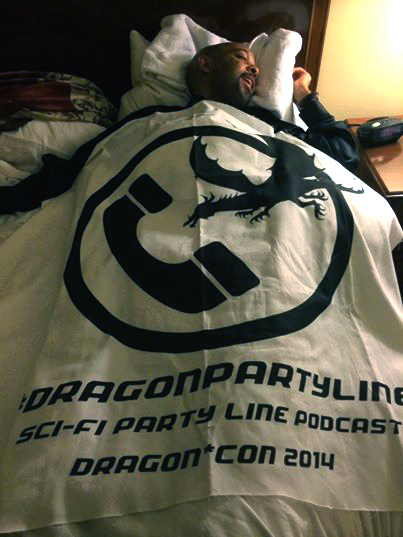 Podcast: Play in new window | Download (Duration: 53:19 — 73.5MB) | Embed
"Swamp ass is a thing I didn't even know about."
– NiNi (@stephbystereo)
"I had an afro in me I didn't know about!"
– NiNi (@stephbystereo)
CAT, CARL, AND STEPHANIE FINALLY MEET EACH OTHER FOR THE FIRST TIME!
We talk about pushy porters, the Atlanta HEAT – the actual heat, the Once Upon Time/ High Velocity sign debacle, the Jeri Ryan panel in which Carl drooled all over his microphone, how awesome Garrett Wang is #poorharry, Carl meets Ron Glass, Phonegate (with high praise of Apple for the Find My iPhone feature), and more.
Kai (@yogikai) joins us mid podcast and tells us her about her Dragon*Con – Day One.
The Dragon Party Line portal dedicated to our adventures at Dragon*Con 2014.
Check out our Instagram & Flickr photos.
<—————————————————————————————————>
Sci-Fi Party Line's Dragon*Con Portal —  http://dragoncon.scifipartyline.com/
<—————————————————————————————————>
Voice mail: 773-336-2686
Sci-Fi Party Line Podcast: http://scifipartyline.com
Twitter: @scifipartyline
Facebook: Sci-Fi Party Line
Tumblr: scifipartyline.tumblr.com
Google+: SFPL on G+
Stitcher: SFPL on Stitcher
The Sci-Fi Party Line theme was created by Eric Escamilla of the Doctor Who: Mostly Harmless Cutaway.
The Sci-Fi Party Line end theme "Son of a Rocket" was created by Kevin MacLeod and licensed under Creative Commons: By Attribution 3.0.
<————————————————————————————————–>